Singapore has many reasons why it's become so popular to establish an operating legal entity and here is one more; you can get set up without stepping foot in Singapore.
It's no surprise Singapore is becoming known as the "Delaware of Asia", named after the most popular state in the United States for startups and foreign companies to set up and operate local companies in when selling into North America.
Thanks to the technology that powers Lanturn and the provision of a local nominee director, you can now register a company entirely online. We'd of course love to see you here, but you can leave that as a to-do for later if you'd prefer that!
So what is a local nominee director?
Singapore requires the provision of a director who is ordinarily a resident in Singapore by the regulatory authorities.
At the point of incorporation, this person has to be either a Singaporean citizen or permanent resident. Have a friend who can act as that person? Great. No such like? No problem, Lanturn regularly assigns professional directors to our client's companies as their virtual "pro" on the ground. From signing resolutions to attending bank meetings, this person will be your new best friend. And for extra peace of mind, we have standard agreements in place to ensure the working relationship and decision-making process is well understood.
If you plan to move to Singapore and get a work visa later, you can always become the local director when that happens.
Ready to walk through the registration process in Singapore and run your business? Let's get started.
First, there's the serious stuff
Lanturn is regulated by ACRA and we take our compliance obligations very seriously. If you incorporate a company using Lanturn, all your directors and shareholders are required to go through a Know-Your-Customer (KYC) process. Once you've used our incorporation tool to complete all the steps in the incorporation process, all directors and shareholders will get an email asking for all the documents necessary to complete our KYC checks. For directors, we follow ACRA guidelines and require a face-to-face meeting or video-call within 3 months of incorporation to ensure compliance with ACRA. Lanturn is a technology-driven company but we pride ourselves on adhering to the highest standards of compliance and providing seamless customer service. As much as technology can help to make processes more efficient, we still like to take the time to have a conversation with you.
OK, now onto the fun!
Setting up a company in Singapore is the first and likely most important step you will take in your first 12 months of operations. We've built tools to make it as easy as possible to ensure you have a solid base on which to build a thriving company or manage assets.
Follow our guide to set up your Singapore entity from anywhere in the world.
Check availability of the name you'd like to use
This is a lot like Google search. Simply input the name you'd like to use for your company, hit 'Check Availability' and we can tell you right away whether the name is taken or you can proceed. If you can't, repeat this process until you find a name that's not in use by an existing company.
Moving forward to reserve the name with ACRA
Should the name be available, hit 'Reserve' and move ahead, providing further details about the company. In the meantime, we will attempt to reserve the name with ACRA, which has final say on all names. If ACRA rejects the name you've chosen, we will reach out to you directly to seek a new name and try again. Once you've chosen a name that ACRA approves, you have exclusive rights to use the name for 60 days.
In case the name is already taken, you will need to get a little more creative and try searching again!
Names that are similar to existing companies may have some complications. In this case, you can still proceed by hitting 'Try Reserve' or you can put those creative juices to work and come up with something more unique! If you hit 'Try Reserve', we will file for an appeal for the name with ACRA, and the results will be subject to their approval. Don't forget, successfully registering for a name does not necessarily guarantee a trademark on the name. Give us a call if you're unsure or anything.
Your new company particulars
Now that the most emotional step (naming your Company) is out of the way, it's time to describe what your company will do so that we can help you pinpoint the ACRA industry codes that most closely reflect your company's proposed activities.
Once you've described your company and chosen your industry, enter your first financial year end, which has to be less than 12 months from the date of incorporation, and your registered business address. The address needs to be somewhere that's easily accessible during regular office hours. If you choose to use Lanturn's address as your registered business address (for S$30 a month), we will scan your mail and upload it to your Lanturn portal for easy access.
Adding directors
As touched on above, a reminder that every private limited company or sole proprietorship in Singapore requires at least one local director. For the purpose of incorporation, this person must be either a Singapore citizen or Singapore permanent resident.
Pro tip: after the company has been incorporated, foreigners working in Singapore on employment passes sponsored by the company can assume the local director role.
Lanturn works with a range of third-party professional directors who can act as your nominee local director. Apart from the service fee we charge for this service, we also collect a $2,000 refundable deposit. The deposit will only be used in the situation management is not able to be contacted for a prolonged period of time and the company's basic compliance obligations are not being met. We will then need to proceed to strike the company off with ACRA and IRAS (Singapore's tax department). Rest assured there will be plenty of warnings before we get anywhere close to reaching this unfortunate and unlikely scenario. But it can happen.
To use our nominee director service, check the box to add the option to your cart.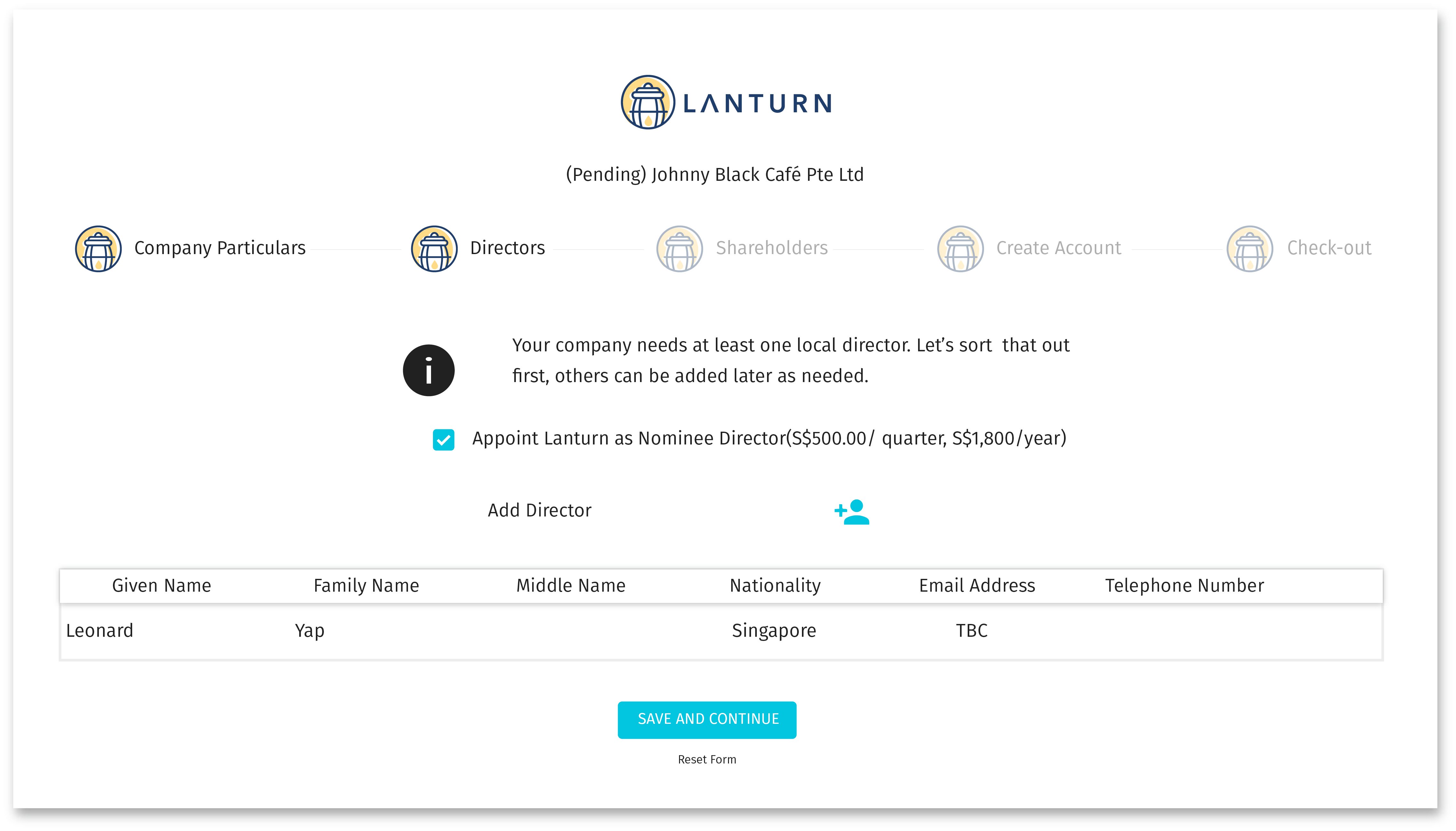 If you have your own local director, hit 'Add Director' and enter their details. They will get a notification informing them they are being nominated as a director and asking them to verify their particulars and submit KYC documents.
Adding shareholders
This is where you can add individual or corporate shareholders for your company. Our incorporation tool automatically sends an email to shareholders notifying them of their proposed allotment and instructing them on how to verify their details and upload KYC documents.
Create an account
You've reached the final step before check-out! Create an account by either entering your details or signing in with your Google account.
Check-out
Confirm everything, enter credit card details (secured by leading global payment gateway Stripe) and you're done! Soon after, you'll get a call from us, and once your directors and shareholders have submitted all the information ACRA require, your company will be incorporated in no time at all!
Status tracking
Once you've confirmed details and cleared check-out, you will be redirected to the Lanturn portal where you can track the progress of the company incorporation—namely, status of the name reservation and the responses from your proposed shareholders and directors requesting KYC documentation. Note: the requests for the KYC documentation is an automated email from our systems, nothing for you to do!
And that's all there is to it! If you want more info or would like some assistance, don't hesitate to speak to someone on our team. We're happy to help!